(A word of warning: This is a(n) AU crossover between Touhou and Mobile Suit: Gundam. It's recommended that you have some knowledge of the Gundam series, and there will be no godmodding or godmoding allowed.)
Plot: In an alternate world, a mysterious force has begun to act within Gensokyo. A special forces unit named the Dimensional Guard (DG) has been formed to combat this threat, with the legendary Pegasus-class carrier White Base as their base of operations. But, how can they fight an enemy that they can't even identify? Only time will tell, as these brave souls fight to defend Gensokyo from this unknown enemy, using only their Mobile Suits, the various G (Glory) Systems throughout Gensokyo, and their own teamwork.
Bio Sheet:
Playername: The username of the character.
Name: The Character's name.
Age: The age of the character.
Race: Human, Youkai, whatever.
Gender: Kinda obvious here.
Appearance: Either a description, or an image will do.
Mobile Suit: The name of the preferred MS of the character, or any Mobile Suits they have piloted in the past.
Faction: The Faction they belong to.
Notes: Optional information on the character.
Characters registered:
Playername: Showa the Prinny
Name: Showa Kitashirakawa
Age: 20
Race: Human
Gender: Male
Appearance: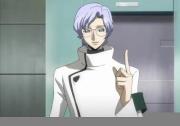 Mobile Suit: (1) MS-14SK Gelgoog Showa Custom, a purple Gelgoog with enhanced thruster output, and optimized combat systems. It suffers from low armor, and has only the trademark shield for defense, as Showa wanted a MS made for hit-and-run tactics. Almost always uses this MS.
(2) OZ-06MS Leo, a mass-produced MS from the After Colony (AC) timeline. Equipped with a Drum Machine Gun, a multi-purpose SMG designed for the Leo.
(3) XXXG-01SR2 Gundam Sandrock Kai, an enhanced version of the Gundam Sandrock from the After Colony era. Equipped with dual Heat Shotels, Vulcan Cannons, Homing Missiles, a Beam Machine Gun, and a Diffusion Cloak used for deflecting beam-based shots. Utilizes the ZERO-System.
Faction: Dimensional Guard
Notes: Usually gives orders to the other pilots, even though it isn't his job. Also has a penchant for assigning pilots to highly modified MS that he personally upgraded, and drinking some sort of beverage at all times. Also acts somewhat secretive, as if he knows something about the attacks.