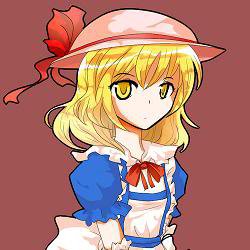 Kana Anaberal-Kitashirakawa
Maiden poltergeist who's lost her dreams
Age:
19
Species:
Poltergeist
Occupation:
Mistress and Professional Haunter
Abilities:
Being one of the most annoying poltergeists in the world

Can make people forget their dreams or have nightmares

Haunting DUH WINNING!
History:
Kana was born from the mental projection of a mentally unstable girl (which she refers to as Honey, although more about her later), but sadly her creator forgot about her so she decided to leave and wander off to find a new home.
Children:
None
Spellcards:
✦ Poltergeist ~♥ (her personal favourite)
✦ Energy Noise
✦ Soul Bird
✦ Mystery Circle (★ that is the bomb!)
✦ Parallel Shot
Anything else?
* Kana seems to loathe maids
* She sometimes acts like a
tsundere
* She is planning to create a talent show for everyone but hasn't decided the show's name yet. Touhouvision? Touhou's Got Talent?
* Kana's full first name is Kamina but she is too embarrassed to use it.